Part of "A Comprehensive and Proactive Simulation of an Inclusive Community: Creating a Sustainable Model of Collaborative Services Using the University as a Core Resource."

Aims of the Care Community Team
Team Activities
Recent years have seen major changes in the "state of care support" concerning the work of caregivers (including helpers – family caregivers (helpers) broadly defined), amateur caregivers who respond to the needs of families (including volunteers, NPOs, and members of cooperative associations), and acts of self-support undertaken by the people in question to assist those who need care.
Our team conducts systematic research on these changes from the perspective of "diversity of needs and restructuring of support". We conduct virtual social clinical trials in areas such as program development, implementation and implantation within society, and the organization of care communities that include non-specialists.
We seek an approach to caregiving focused on "the perspective of people with ordinary lifestyles and the people in question", with the aim of establishing the value, techniques and perspective of care that emphasizes integration through community as a living space (environment). The goal is the formation of a "care community".
Recent member initiatives
Team members conduct practical research based on a variety of approaches including regional welfare theory (mainly carer support), healthcare policy (mainly the history of Japanese healthcare policy), legal clinical theory (mainly the joint efforts of lawyers and clinical psychotherapists), sociology of the family (mainly dynamic research on contemporary families), education theory (mainly the implementation of contemplative education), and non-profit organization theory (mainly non-institutional care activities research), with the aim of producing research results in line with social realities.
Introduction to our research — Thoughts from "longevity island"
Let me briefly introduce some of our research. I myself conduct research on Japanese and South Korean NPOs (connected directly or indirectly to support for the elderly) from the perspective of non-profit organization theory. In both Japan and South Korea, two countries in which the population is aging rapidly, beginning in the 2000s the "institutionalization" of care has been undertaken, starting with the implementation of long term care insurance systems (enacted in 2000 in Japan and 2008 in South Korea). At the same time, I think that in both countries the "limits" of support care that focuses mainly on professionals/experts have been exposed at the macro and meso levels, and the role of NPO and volunteer group social resources has become even more important.
 As part of my research I recently went to Yoronjima, one of the Amami Islands administered by Kagoshima Prefecture. This is an "island of longevity", and even today it is normal for elderly people to remain in their homes until they pass away rather than enter a hospital.  
 Incidentally, Okinawa, the prefecture immediately adjoining this island, used to be referred to as the prefecture with the longest life expectancy in the country, but the situation has now completely changed and average life expectancy there has fallen to a middling rank nationally (the spread of "lifestyle diseases" through factors such as changes in eating habits is often pointed to as the cause of this decline). But the nearby Amami Islands continue to be "islands of longevity" even today. It is thought that a major factor in this longevity is the comparative preservation of a traditional diet with an excellent nutritional balance, but we are also looking at non-institutional factors facilitating the independent living of elderly people in addition to medical and nutritional approaches.
 I interviewed healthy elderly people on Yoronjima and found that they are obtaining social resources in order to go on living in their own homes. I was once again struck by the fact that "farming" is a major factor when these resources are obtained. These elderly people all engage in self-sufficiency farming, and "farming" not only provides them with a high quality diet and a reason to go on living but also seems to serve as a medium in the formation of social networks and the cultivation of non-institutional social resources. As such it can provide us with valuable hints on "the formation of care communities"
This work has not yet been organized as formal research, but in the future I plan to conduct different surveys with these approaches in mind.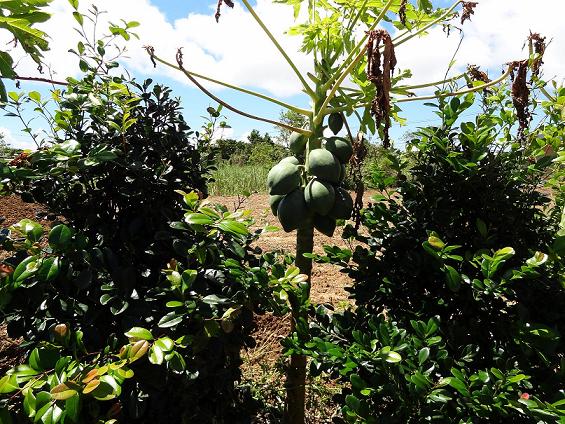 In this area, growing one's own fruit and vegetables is taken for granted.
Related projects