Part of "Comparative Care Systems and Policies"

Choices in Health Care: Debates and Experiences in the UK and Japan

The "Comparative Care Systems/Policy
Research Group" examines how social care is to be organized and the nature of
related policiesthrough international comparisons. Systems involving care
affect both those who provide it and those who receive it, and how they are to
be designed going forward is a very important question. This research group
examines related academic literature and conducts analysis of health and
welfare systems while making use of domestic and international networks. Here
we would like to provide some information about one of this research group's
initiatives, a seminar held at Ritsumeikan University on March 28thentitled
"Choices in Health Care:Debates and Experiences in the UK and
Japan".

The theme of
thisseminar was"choice in healthcare," an issue that in recent years has
attracted a lot of attention in countries with healthcare systems based on
taxes (Britain, Northern Europe, etc.), with a particular focus on issues being
debated in Britain and Japan and a comparison of these two nations. In Britain,
patients' choices are restricted by the National Health Services (NHS)
framework. The government has tried to
expand patient choice within this framework and has also attempted to broaden
the options available to patients through a combination of public and private
providers. In Japan, on the other hand, there is little regulation of patient
choice apart from differential patient fees designed to reduce direct access to
specified medical care coverage. Amidst an increasing focus on reducing medical
costs, however, the idea of introducing a "general physician" system that
includes a "gate-keeping" function has been debated. Three reports were
presented in the context of these underlying circumstances.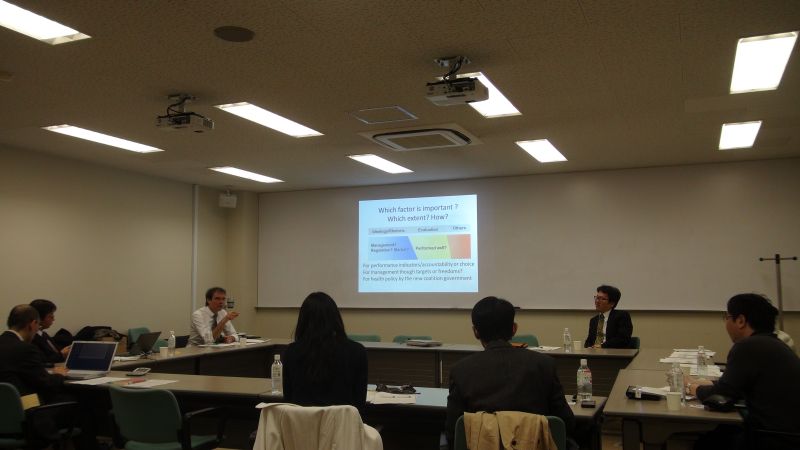 Patient choice in the NHS

Professor Stephen
Peckham (reader in health policy and director of the Policy Research Unit in
Commissioning and the Healthcare System, London School of Hygiene and Tropical
Medicine)began by presenting a report entitled "Patient choice within the NHS:
organization and patient perspectives." Over the last ten years the concept of
choice has grown in importance within the British healthcare system. Against
this backdrop, Professor Peckham's report examined issues related to patient
choicefrom the perspective of lifestyle choices made by individuals accompanied
by responsibilities,with patients being viewed as consumers of healthcare
services. Issues concerning healthcare providers were also discussed from the
perspective of organizations responding to these sorts of patient choices.
It was also noted
thateven within Britain (the United Kingdom) devolutionhas led to differences
in how "choice" is handled in each country. The NHS in England, for example,
differs from systems in Scotland, Northern Ireland and Wales in its approach to
consumer choice and in particular in its adoption of a "choice of healthcare
provider" policy. In short, in contrast to the English approach that
strengthens choice through demand-side, consumer-focusedmarket incentives, in
the other three countries choice as part of a healthcare market and related aspects
of patient choice have not been introduced as part of public policy. It was
also reported, however, that lookingat factors such as referrals from GPs to
hospitals there is in fact no significant difference in the extent to which
patient choice is being implemented even with such varied policies. In response
to Professor Peckham's report, a question from the floor raised the issue of
comparison with the introduction of choice in the British education system.
There was also a discussion of the importance of evaluation systems in both
cases.
Debates on choices in primary health care in Japan

Next Professor Ryozo
Matsuda (Institute of Human Sciences, Ritsumeikan University) presented a
report entitled "Primary care choices in Japan: suppression or inducement?" He
analyzed the position of primary care within the Japanese national healthcare
system, beginning with the fact that while in several countries including
Britain the expansion of choice has been debated/implemented, in Japan it has
on the contrary been the regulation/restriction of choice concerning primary
care that has been considered, and examined the state of choice and attendant
competition in this context. He then presented the perspective that while the
debate over establishing "general physicians" to serve as gate-keepers has
focused on the aging of society, reduced budgets, and promotion of regional
cooperation, the question of whether to relax regulatory control over patient
choice or give it greater power is one that involves dynamic relationships
between three actors: doctors, patients, and the government. In response to
Professor Matsuda's presentation, it was pointed out that while in theory the
introduction of general physicians in Japan is conceivable, in practice it
would be very difficult given the problems that would arise, and the suggestion
that it might be possible to introduce some sort of family medicine specialist
qualification without a "gate-keeping" function was then debated.
Choice and quality evaluation in healthcare: a comparison between theUK and Japan

The final presentation was given by Katsunori Kondo (Center for
Well-being and Society, Nihon Fukushi University) and entitled "Evaluating
quality and choice in healthcare: Comparing Britain and Japan." Professor
Kondo's presentation was positioned as a summary/comparison of the two previous
reports. Distinctive characteristics of each country's healthcare system were
identified, with a lack of competition being cited in the case of Britain and a
competitive environment through free access in the case of Japan, and the risks
facing both nations were discussed. In particular a
contrast was drawn between Britain, where healthcare performance evaluation is
carried out but substantial patient choice is scarce, and Japan, where choice
exists but information (evaluation) to assist in choiceis not available. As
Professor Peckham mentioned in his report, from a management perspective, given
limited resources and imperfect information the necessity of pursuing evaluation
and accountability in both countries is increasing. In response to Professor
Kondo's report, the question of what sorts of outcomes should be selected to be
evaluation targets was raised.
The differences between
the British healthcare system based on taxes and the Japanese system based on
social insurance are large, but there do not seem to be great differences in
the main goals of these systems: ensure access and improve quality, efficiency,
and equality. Regarding the issues of "patient choice" and the positioning of
market mechanisms in the provision of healthcare that were discussed at this
seminar, the questions of what developments will arise in each country and what
will happen to the differences involving "choice" are of great interest as
issues that will affect the above-noted major goals of both healthcare systems.
Also, and this was a fundamental issue in all three reports, there is the broad
question, including issues of decentralization, of how the units of
management/financing should be set. As this summary indicates, this research
seminar provided a very important opportunity to discuss vital questions
concerning healthcare provision systems and patient choice in Britain and
Japan.
Related projects