Part of "A Comprehensive and Proactive Simulation of an Inclusive Community: Creating a Sustainable Model of Collaborative Services Using the University as a Core Resource."

Aims of the Elderly People Support Team

In the Japan Society of Developmental Psychology Newsletter published in June, 2009 (Vol. 57), Keiko Moriya, an emeritus professor of this university, gave a detailed description of her own practical initiatives and the meaning and necessary conditions of "social redress" from the perspective of development. The "reading aloud" and "calculation" activities of the elderly people support team established within the Institute of Humanities, Human and Social Sciences are research initiatives that aim to be the kind of "social redress" research advocated by Professor Moriya.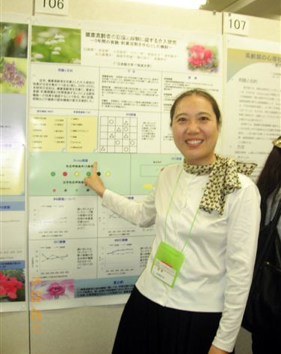 The author presenting the results of this initiative at a conference.
Activities
The practical initiatives begun in 2002 continue to be implemented today. They consist of intervention research examining the effects of ongoing "reading aloud" and "calculation" activitieson the intellectual function and daily lives of elderly people. The origin of these initiatives was the discovery,reported by Kawashima (2002),that "solving simple reading aloud/calculation problems activates the frontal lobe of the brain."Based on this discovery in the field of neuroscience, this intervention research was undertaken in order to determine what sort of effects the administering of simple reading and calculation problems has on various aspects of intellectual function such as memory and control in elderly people. This is our"Brain training reading and calculation initiative."The training is normally conducted in three 20 ~ 30 minute sessions per weekduring which participants are given calculation problems up to about a fourth grade level and are asked to read selected passages of text aloud. Those administering the problems include community volunteers, student interns, and staff at institutions who have learned how to conduct this kind of training.
Research results
The research conducted by the elderly people support team not only confirmed an improvement in the maintenance of intellectual function but also pleased participants who expressed their happiness with the changes they observed in themselves. One participant, for example, said, "I had a cerebral infarction a year and a half ago, and while suffering a loss of function in the left half of my body I have been attending these training sessions for three and a half months. I was unable to speak clearly, but thanks to reading aloud I can feel that my speech has become smoother."For the researchers involved, this initiative has allowed us to look at the effects of aging on various aspects of intellectual function and its"plasticity." We have learned that through intervention it ispossible to improvefunction even after it has declined, and in our positive datawe have discovered evidence of additional flexibility in human intellectual function.
Aiming for social redress
In order to promote "social redress," the elderly people support team has also collaborated with government bodies and the Kyoto branch of the Japanese Society of Behavioral Sciences for the Elderly. Beginning with elderly residence facilities, the scope of our current activities has expanded to include Ritsumeikan University, the Kita, Sakyo, and Fushimi wards of Kyoto City, and elderly care centers, and in order to meet the demands of each local body and community we also conduct volunteer education programs, periodic training/educational seminars and practical initiative briefings.
Future direction and tasks to be undertaken
In addition to its educational effects that can be described as "mental exercise", the "Brain training reading and calculation initiative"is also based on person-to-person communication. And since the maintenance or improvement of various aspects of intellectual functionin the face of the deterioration caused by aging has been confirmed, this initiative can be indeed be thought of as a genuine "brain training" program. Nevertheless, a lot of work remains to be done concerning the validity and degree of effectiveness of methods of preventing and treating reduced intellectual function caused by senile dementia, including further examination of effective methods of intervention. I believe that in order to promote "social redress" it is very important to accumulate positive data concerning the effectiveness of this kind of intervention, and any assistance we receive in our efforts to continue this work going forward will be greatly appreciated.
Thoughts on working with the elderly people support team
I consider it a great honor to have been given the opportunity to participate in the work of this team as a member of the administrative committee. I experienced many moving episodes while participating in the implementation of the program and seeing its effects with my own eyes. I also had the opportunity to meet many wonderful people and learn about aspects of Japanese culture and daily life with which I was not familiar. The implementation of this program was for me a truly meaningful and valuable research activity. I would like to take this opportunity to thank all of those involved.
For detailed information on our practical initiatives and the results of related research please see the works listed below.
References cited

守屋慶子(2009).発達心理学の社会へのエントリーを考える―「相互還元」を求めて.
発達心理学ニューズレター57回.
川島隆太(2002).高次機能のブレインイメージング.医学書院.
大川一郎・吉田甫・土田宣明(2007).認知症の高齢者に対する音読・計算課題の遂行が
認知機能に及ぼす影響.高齢者のケアと行動科学,Vol.12.(2), P28-37.
孫琴・吉田甫・土田宣明・大川一郎(印刷中).学習活動の遂行によって認知症高齢者の
抑制機能を改善できるか.高齢者のケアと行動科学,Vol.17(1),印刷中.
Related projects
A Comprehensive and Proactive Simulation of an Inclusive Community:Creating a Sustainable Model of Collaborative Services Using the University as a Core Resource. Cognitive rehabilitation for elderly people living in local communities